Terence Blanchard and the E-Collective | Breathless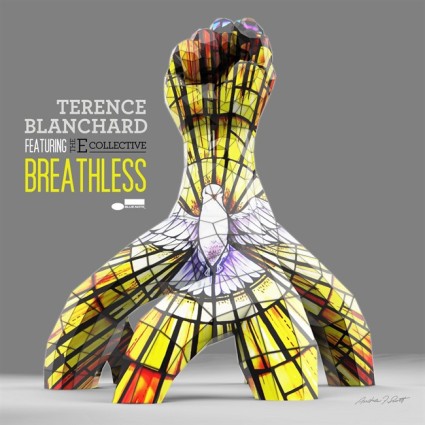 Terence Blanchard and the E-Collective | Breathless
Blue Note
by Peggy Oliver
From a musician who did not take his musical chops seriously until high school, Terence Blanchard eventually fed off his surroundings of New Orleans, a city that breathes blues, Dixieland, funk and is home to The New Orleans Center for Creative Arts. N.O.C.C.A. was the breeding ground for this thinking man's musician whose film compositions for Spike Lee and flexible musical language (Latin jazz, swing, bop) has sparked his career since his early days with Art Blakey's Jazz Messengers and the (Donald) Harrison/Blanchard Group. After his tenure with the aforementioned, Blanchard was a natural to become a well-respected bandleader and 'jazz lion' who has lifted post-bop to new heights. Though Blanchard has navigated around high tech driven orchestrations on several of his film scores, Breathless is by far his biggest endeavor into the electronic abyss, certainly taking into account one of his heroes, Miles Davis, who married jazz with funk, rock and hip-hop in the latter part of his career. Blanchard's latest supporting cast, The E-Collective, are a diverse group of musician/friends who steer into mainstream and unpredictable musical courses. One similarity that carries throughout Breathless is Blanchard's passion for relevant issues and social ills surrounding the disturbing words recently heard around the media, "I Can't Breathe."
The primary premise of Breathless begins on an emphatic note with the Prince driven funk and PJ Morton's convicting vocals for "Compared to What?," echoing the sentiments of this soul jazz classic by Les McCann and Eddie Harris. Morton flips the musical script for the Hank Williams composition, "I Ain't Got Nothin But Time" away from a country twang into an urban sexy swagger. The title track builds upon the intensity from the cries of Eric Garner, who died after put in a chokehold by police officers. Backed by a semi disjointed soundtrack, "Shutting Down" centers on Morton's fragile voice depicts the frustration of battling life's injustice: "Hear me cry/I need strength/Going crazy/Trying to pick myself off the ground/I'm getting lazy/Cause life sure knows how to break you down." When Morton's vocals are in charge, these are Breathless' finest work. On the other hand, some of the instrumentals, while well intentioned in the musicianship and the continuing socio political themes, results in hits and misses.
For instance, "Soldiers" leans a bit too much on which band member lands the heaviest fusion induced punch. However, the bop-filled improvisations on "Confident Selflessness" are magnetizing and fresh, highlighted by Charles Altura's rock-tinged guitar and drummer Oscar Seaton's faster than the speed of light closing solo. The same applies to the synthesized jazz framing of "Talk to Me" that enhances a spoken word vignette tribute to Martin Luther King. Yet the most puzzling choice, considering the purpose behind Breathless, is Coldplay's 2014 hit, "Midnight," that submits nothing extraordinary compared to the original version.
Breathless is quite the experiment from the primarily acoustic jazz packages from his previous body of work. That said, Blanchard's musical signature trumpet is still written all over it and his leadership of E-Collective truly reflects the love for his art. Four out of five stars.
Peggy Oliver
The Urban Music Scene